The Unitarian Universalist Service Committee advances human rights through grassroots collaborations.
← News & Stories
Channeling Community Wisdom to Address Climate Change in Kiribati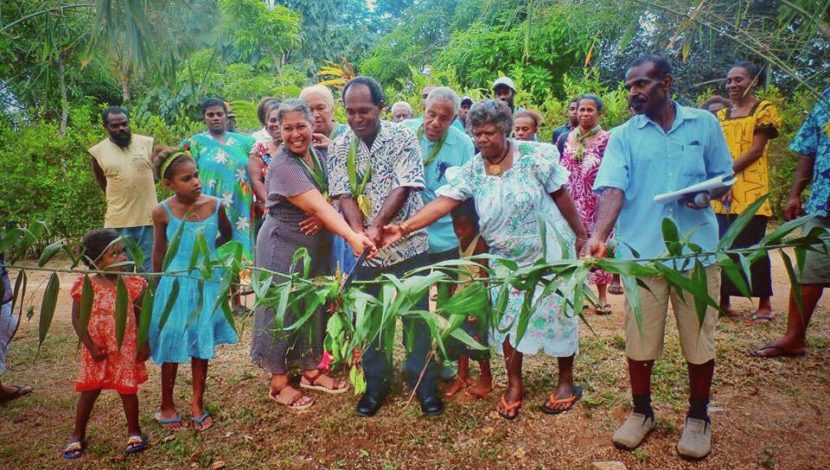 The low-lying island country of Kiribati has long been at the forefront of climate-forced displacement discussions due to the challenges residents face as a result of rising sea levels. High tides, called "king tides," have struck the central Pacific Ocean country, swallowing houses. Rising sea levels have led to saltwater contamination of groundwater, threatening the human right to water and food. Live and Learn Environmental Education Kiribati (LLEE)—a Unitarian Universalist Service Committee partner—provides education and advocacy for a human-rights, community-led approach to the climate change challenges the people of Kiribati face.
LLEE honors local traditional knowledge and community members' requests in their educational outreach. Taking a holistic approach, LLEE trainings are guided by local conversations to ensure they are relevant to the human rights issues people are experiencing in their daily lives. For example, healthy nutrition and access to clean drinking water are impacted by climate change threats. By integrating health training into education outreach, LLEE helps the people of Kiribati to build their resilience.
The organization also has combined its work to raise awareness of human rights among the people of Kiribati with trainings related to climate change adaptations on waste and tree planting. This combination has created a significant impact on communities, empowering participants to speak out for their rights at risk due to climate change, and building momentum for greater grassroots advocacy at local, regional, and national levels.
Behind the news reports, numbers, and politics of our warming planet are the frontline nations, like the country of Kiribati, already facing the loss of their native lands and way of life.
Photos from Live and Learn Environmental Education Kiribati.