The Unitarian Universalist Service Committee advances human rights through grassroots collaborations.
← News & Stories
Post-Detention Support for the LGBTQI Immigrant Community
In honor Pride Month, we celebrate our partnership with the Queer Detainee Empowerment Project (QDEP), one of UUSC's newest partners.
In honor Pride Month, we celebrate our partnership with the Queer Detainee Empowerment Project (QDEP), one of UUSC's newest partners. With the launch of Love Resists, our joint campaign with the UUA, UUSC sought out partnerships with groups who are particularly vulnerable under the new administration, namely the LGBTQI community, immigrants, and people of color. The New York-based QDEP is representative of these three populations. They work to oppose the criminalization of the LGBTQI immigrant community and provide post-detention support.
QDEP's message is clear: Immigrant detention is unsafe for all people, especially LGBTQI individuals, many of whom are also people of color. They are working with over 100 organizations that specialize in human and civil rights throughout the country and share the goals of closing down detention centers and holding Immigration Customs Enforcement (ICE) accountable for the death and violence that occurs in their facilities. QDEP works to secure the freedom of detainees by raising funds to pay their legal bonds, advocating on their behalf, providing direct legal services, and organizing a number of support services within detention centers, including a Pen Pal Program, visitation, and bond support. Once people have secured their freedom, QDEP provides case management to assist reintegration.
Through our partnership with QDEP and the work of Love Resists, UUSC is continuing to advocate for expanded sanctuary as a means of combating criminalization. In line with UUSC's values and eye-to-eye partnership model, QDEP is led by and for the communities it serves. Members of their staff and volunteer networks have experienced detention themselves. Once released, many return to join their communities in the struggle for freedom.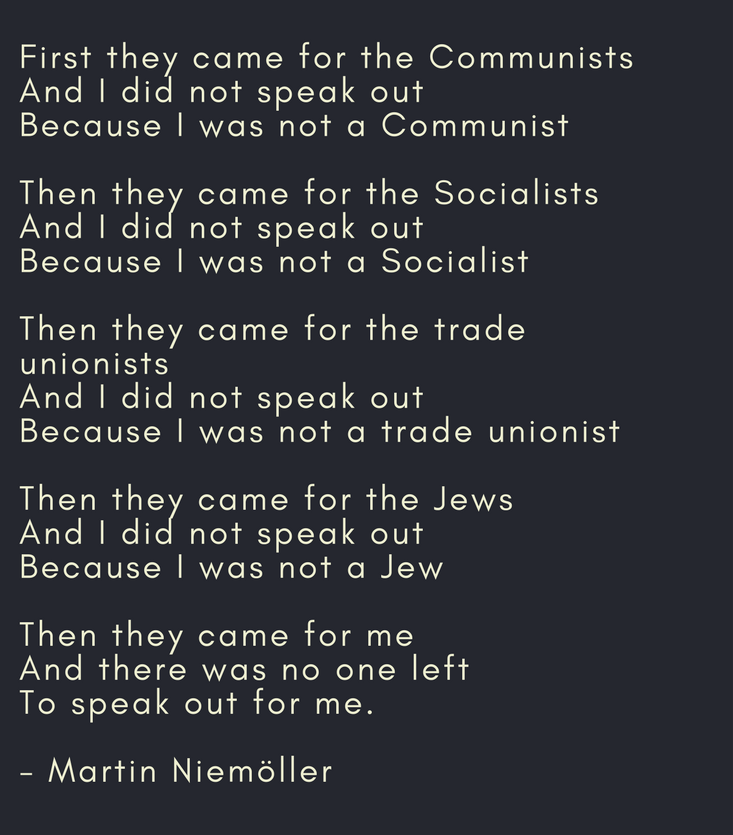 When I think of times I have hesitated to stand by my values and put words into actions, I remember the famous poem by the German anti-Nazi theologian and Lutheran pastor Martin Niemöller. Beneath the rumination on the selfishness of the human condition lies a message of interconnectedness.
QDEP works directly at the intersection of multiple sources of oppression; however, the struggle for greater recognition and expansion of human rights does not just affect those who are experiencing the direct effects of persecution. The United States is not so different from Germany, the country Niemöller lived in less than 80 years ago.
Niemöller's words are an important reminder of our shared humanity and the need to speak up for those who don't have a voice. As we celebrate Pride, we are proud to partner with QDEP, an organization at the front lines fighting to stop the detention of immigrant LGBTQI people of color.
Read This Next
What Do Trump's Executive Orders Really Mean? Part 1/3
What Do Trump's Executive Orders Really Mean? Part 2/3