The Unitarian Universalist Service Committee advances human rights through grassroots collaborations.
← News & Stories
UUSC Profile: Myra Dahgaypaw
UUSC introduces its newest staff member, Myra Dahgaypaw, who will be leading the institution's work in Burma (Myanmar).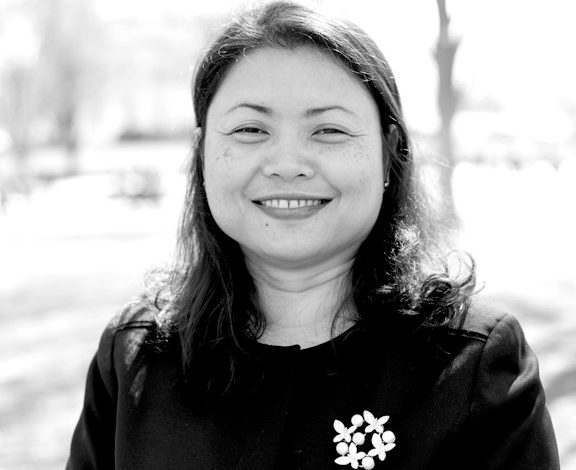 We are delighted to introduce Myra Dahgaypaw, UUSC's newest Senior Partnership Officer for International Justice and Accountability, to our members. Myra was formerly the Director of UUSC grantee partner, the US Campaign for Burma. She now oversees UUSC's Burma portfolio.
How did you first get involved in the human rights issues you are working on now?
I started my advocacy at a very young age because I saw things that did not seem right in my own community. As a child, I always asked why everything was so unfair. Why did my family have to move around so often? Why did I grow up without parents? Why was my aunt raped by soldiers? Why did the military torture and kill my uncle? [Only] when I was a teenager and old enough to understand did I learn that the Burma Army sent troops to invade our village, burn it down, and kill people. As a result, my family and I could not stay in the village when the Burma military troops came because they would kill us. Unfortunately, half of my family [was] unable to escape the Burmese military – this included my parents and oldest brother.
So, my sense of social justice and accountability came about in my early teenage years. I joined the Karen Women's Organization (KWO) when I was in high school. My work with the KWO drove my passion for speaking out and seeking accountability. To work as a human rights activist, there is a level of responsibility, compassion, values, and a belief of obligation. These resonated greatly with me, because I have the freedoms and platforms that others may not have.
As a former UUSC grant partner, what is one of your favorite success stories in partnership with UUSC?
To be in partnership with UUSC is one of the most rewarding things. UUSC's partnership enabled us at the US Campaign for Burma to do more than we could do without funding. We were able to reach out to more grassroots partners and establish partnerships with organizations working directly with the impacted communities on the ground. We were able to educate and bring together youth from the diaspora through advocacy training and an internship program. Most of our interns are high school and college undergraduate students.
One of my favorite success stories is bridging the gap between the diaspora and activists on the ground in Burma, such as connecting the Karenni Human Rights Group with Karenni community leaders. We helped them establish an online presence and wrote statements and sign-on letters for publications and policy makers.
What drew you to work at UUSC?
The most important thing is that we share similar values and interests, especially UUSC's stance to fight for justice and accountability. UUSC is an organization that sincerely wants to make a difference for marginalized communities – the minorities whose rights were violated but have limited access to problem-solving methods. UUSC partners with these communities in order to fill in the gaps of funding and advocacy. It sees grantees as equal partners by giving the freedom to produce their own work. UUSC believes in the power of the impacted communities, as well as helping to raise their voices.
What is something you'd like people to know more about Burma that you think is not highlighted enough in U.S. media channels?
Inclusivity, as well as ethnic and religious minorities' issues, are not highlighted enough in the U.S. media. Inclusivity is very vital to bringing about political and genuine democratic change to Burma. Unfortunately, most people know only one side of Burma — the central Burma, which includes Rangoon, Nay Pyi Taw, and Mandalay. Most people don't know that Burma's ethnic and religious minorities suffered gruesome human rights violations and mass atrocities at the hands of the brutal Burmese military regime for over seven decades.
Throughout my youth, I was forced to flee from the Burmese military on several occasions. Burmese military regularly sent war planes to drop bombs in and around our location, especially during the dry season. We dug trenches around our school in case we needed to jump in when the Burmese military dropped its bombs. There was one incident when a bomb was dropped on the very spot where a childhood friend and I were moments before. We jumped into the trench just as the military dropped the bombs. In the aftermath, we were covered in red dust. Growing up in a violent environment, red was often synonymous with blood and death. I remembered yelling, "I'm dead! I'm dead!" My friend shook me and told me that I wasn't dead because I was still talking.
Now, the ethnic civilians are seeing a level of violence that surpasses what I grew up with, but no international media is reporting the deteriorating on-the-ground situation. The Burma Army is staging scorched earth campaigns – as well as using fighter jets, tanks, and other forms of deadly and sophisticated weapons – across all ethnic states. Within the past year alone, there were more than 8,537 Burmese military attacks on civilians that led to 400,000+ newly displaced individuals of ethnic nationalities. Many other civilians were also killed by shelling and land mines, or they were shot on sight. The daily military attacks on the ethnic civilians will only get worse.
Where do you draw hope to be able to continue in your challenging work?
My hope comes from genuine supporters, such as UUSC members and others. I also draw hope and strength from the impacted communities – their strength, courage, and resilience. It doesn't only give me a sense of hope, but also a sense of responsibility. I have the freedoms and platforms that they do not have. I can raise their voices and share their stories. They are more than victims of the Burmese military. They are mothers, fathers, brothers, sisters, friends, loved ones. They are survivors. They are no longer a number in an article or report. They are no longer the target of the Burmese military. Through advocacy and activism, we at UUSC can help humanize them to the international community and leaders.